---
The second chance education centre CVO Vitant is located in Hoboken, a district of the city of Antwerp. It is one of more than 30 Flemish centres that enables adults to obtain a diploma through second chance education. A the core of the vision of CVO Vitant is the learner as a whole and the centre has invested a lot of resources in the wellbeing of learners inside and around the classroom. Furthermore, CVO Vitant has pioneered the use of online learning platforms in adult education and has used the possibilities of digital technologies not to replace the face-to-face learning environment, but to enhance it. Using the UDL framework to organize an empowering learning environments, CVO Vitant will participate in this project and provide expertise in developing training materials for teachers to adopt UDL in blended learning.
---
Silvia Terrenzio
Silvia is a full time teacher at CVO Vitant. With a background in Art History, she is a teacher of general subjects such as sociology, communication and history. Since the start of the adoption of the learning management system, Silvia has been involved in the adaptation of the platform to the educational needs within CVO Vitant as well as teacher training in using digital tools to enhance the development of blended learning.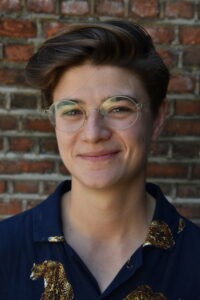 Ad Doom
Ad is assistant principal at CVO Vitant and brings expertise in developing personalized training routes for early school leavers in second chance education. With a background of educational sciences, and many years of experience in substantive supportive and management functions in adult education in Flanders, Ad has extensive educational management and organizational skills which will benefit the management of the project at CVO Vitant but also in the partnership as a whole. Besides, Ad has experience in participating in EU Lifelong Learning projects on adult education.